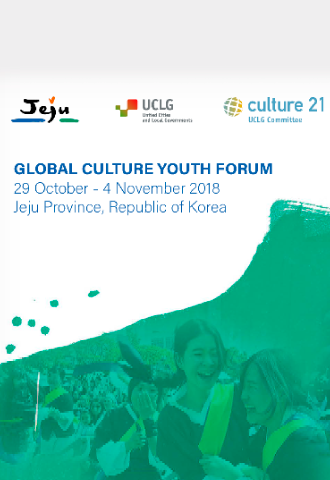 GLOBAL YOUTH CULTURE FORUM - JEJU 2018
Del 10 Julio 2018 al 30 Julio 2018
Descripción del evento
Talented, self-reliant and dynamic local artists from Jeju (Republic of Korea) as well as international artists and architects who have interest in public space and work in any art media (photography, installations, drawing, ceramics, video, performance, soundscapes, etc.) are invited to apply for the opportunity to participate in the Global Youth Culture Forum Jeju 2018 to be held from 29th October to 4th November 2018. The deadline for submissions is Tuesday, 31 July 2018. What is the Global Youth Culture Forum and how it will be developed The Global Youth Culture Forum will be a global meeting of local and international artists and architects who will be working together taking as cases of study two different neighborhoods of Jeju City: Namsung Old Town and Jeju Old Downtown. Focused on the cultural and social issues that usually are involved in contemporary urban transformations as consequence of economic and political processes, the aim of both workshops will be analyzing context in situ to work on different proposals in which art and culture are the fields of reflection and action. Joining a General Curator who will have developed the conceptual frame of the Forum, each group will be leaded by one local Mentor and one international Mentor, while it will be 20 mentees participating in each group, fifty per cent local and fifty per cent international from around the world. It is expected the equal participation between women and men. Both workshops will have an online prelude through a web and a blog which will be released on 17th September 2018 and become the online space of communication between all participants, mentors, mentees and curator to keep in touch and share ideas, materials and references related to the programs to be developed during the Forum. The Forum will end with a public presentation in which the mentees will present their proposals to artists, students, members of the media and the general public (in English). The organization and the General Curator will consider and evaluate if some of the proposals may have real production possibilities to be taken in account in the future. In addition to these two groups, there will be also a meeting point at Sanjitmuel Park & Sanjicheon Art Gallery, ruled by local artists, an eco-friendly space for young artists in which present their ideas and sale works of art and design to citizens and visitors. Selected candidates will be provided with more and detailed information once the jury has approved the final list of participants. General concept and the concrete programs to develop during the Forum will be provided from the 17th September 2018. Who can apply? The Global Young Culture Forum is not a school, nor an academic proposal, so it is not guided by academic records of specific disciplines; the relationship that candidates may have with galleries, collectors or institutions is not valued especially. We are interested in artists and architects who are studying the last courses of an academic program or who have finished their studies and already developed some years of professional career (up to 3 years maximum). It would be accepted artists and architects of any origin, discipline and background and that can take full advantage of all the conditions offered to the workshops included in the Forum. Candidates must have special interest in artistic projects to be developed in public space, through research and public participation. In addition, they have to have skills in communication, and they must have good disposition to work in an international and interdisciplinary group. Participants should be fluent in English language, written and spoken.
APPLICATIONS: An application consists of one PDF document, containing these three parts: - A statement explaining his/her interest to participate in the Global Youth Culture Forum Jeju 2018 (maximum 1000 words in 2 pages, in English). - The documentation of previous work: also in English, 9 pages maximum with description of the realized projects, images and links to Internet (videos or other visual documentation related to it). - A short bio with portrait of the candidate (also in English, 1 page maximum).
DEADLINE: The deadline is 31th July 2018. Applications have to be sent to: jejuforum@agenda21culture.net
SELECTION PROCESS Proposals will be evaluated by a jury composed by the organization representatives, local experts, the local and the international mentors and the General Curator.
CONDITIONS The organization will provide accommodation and meals to the mentees during the Forum, and will
take over the international mentees' travel costs to and from Jeju island; medical and travel insurance
will be taken over the organization. International mentees from another continents will travel
on 27th October 2018.
PROFILES
GENERAL CURATOR: Rosa Pera
LOCAL MENTORS: Nayun Lee, Kidai Kim, JiEun Kim
INTERNATIONAL MENTORS: Giuliana Racco, Alfonso Borragán. * More information in Annex 1
ORGANIZATION The Global Youth Culture Forum is partly supported by the Jeju Special Self-Governing Province government and the Culture Committee of the world organisation of United Cities and Local Governments (UCLG), together with JITC-Jeju International Training Center, JFAC-Jeju Foundation for Arts and Culture and JURC-Jeju Urban Regeneration Center. * More information in Annex 2 (2018 Youth Art Project I - Starting Point)
VENUE: Tamna Culture Square, Jeju City, South Korea.
Contact for more information: jejuforum@agenda21culture.net
Evento organizado por:
jejuforum@agenda21culture.net